Weyville was a farming town in Fragaria before it was ultimately destroyed by Iratu Elexion and his team.
Location and Design
Edit
Weyville was located on large open land ideal for farming as settlements outside of the main town can be seen with wooden and stone fences. The main part of town seems to be surrounded by a long stone wall that served as where the boundary of the town lied. Most of the houses were about two storeys high with either wooden or tiled roofing and they were all scattered on a mostly dirt covered ground with small patches of grass growing everywhere. One notable shop that was found in this town was a trading post called Trader Moe's, where the owner was killed long before the town's inevitable destruction.
Destruction
Edit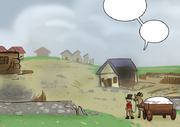 Prior to the town's destruction, Iratu Elexion and his team had infiltrated the town and the shop Trader Moe's, likely by Moonshade's request, and interrogated the owner inside. Later the team, in an attempt to capture Denevol, an old Seraph Angel who had been living in this town for over 15 years, would end up destroying the town; causing major damage to the area and leaving most, if not all of the buildings destroyed. The fate of its inhabitants is unknown.
References
Edit
Ad blocker interference detected!
Wikia is a free-to-use site that makes money from advertising. We have a modified experience for viewers using ad blockers

Wikia is not accessible if you've made further modifications. Remove the custom ad blocker rule(s) and the page will load as expected.