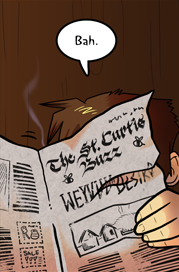 First Appeared: Slightly Damned #489 [HQ, TS]
The St. Curtis Buzz is the name of a local newspaper in St. Curtis. It is apparently named in honor of Melli the Bee.
Heathcliff "Cliff" Sinclair reads this newspaper during the group's visit to St. Curtis. At that time[1] it featured stories on Weyville being destroyed, a call back to the Jakkai fairy-trader in Riverside (who had been killed by the Fairy Queen), a mention of drought in the Dragon Island Archipelago, and some miscellaneous stories on how people were reacting to the presence of Angels, Demons and resurrected souls on Medius.
References
Edit
Ad blocker interference detected!
Wikia is a free-to-use site that makes money from advertising. We have a modified experience for viewers using ad blockers

Wikia is not accessible if you've made further modifications. Remove the custom ad blocker rule(s) and the page will load as expected.