Guff

Characteristics

Race

Mutant (Spotted-Hyena)

Gender

Male

Age

26

Height

6'8"

Professional Status

Affiliation

Guff's Diner

Occupation

Diner Owner

Chef

Personal Status

Status

Active

Relative(s)

Lucky (sister)

Unnamed Mother

Debut

First Appearance
Image Gallery
Guff is a mutant Hyena who is the older brother of Lucky and owns and runs the local diner of a run-down town.
Appearance
Edit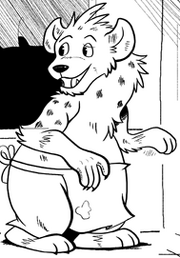 Guff resembles an anthropomorphic hyena who has a deformed left hand that looks more close to a regular paw, like his feet, while his right hand resembles the human-like appearance that all animals in his world have. He has brown eyes while having a lazy left-eye, a mostly tan fur-coat with a light-brown belly and dark-brown fur on his snout, ears, back-hair and feet. He has a sharp fang that hangs out on the right side of his mouth. He only wears large blue pants with a long brown belt with a black buckle.
Personality
Edit
Guff is typically kind and laid-back, unlike most other predator-like animals in his world. He likes to keep things as simple as he can make it even if it helps improve his lifestyle as he likes himself the way he is. He loves his younger sister even at times where she insists he do things her way.
Guff first appeared in another comic featuring him and Lucky, where his appearance was close to his current design.
Guff is considered to be transmasculine, according to the character page section of the Junk Hyenas Diner website.
References
Edit