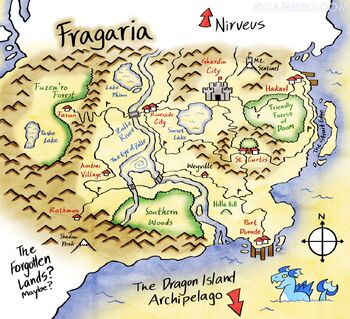 Fragaria
is the name of the country and/or continent on
Medius
in which most of the story of
Slightly Damned
takes place.
Geography
Edit
It features a wide variety of terrain from mountains to forests to plains to rivers, lakes and the ocean. It is primarily inhabited by humans but several secluded Jakkai villages are known to exist as well as the combined Jakkai/Human city of St. Curtis which is the largest city in the country, more-so than the capital. There are also Fairies who are native to the Southern Woods but can also be found in St. Curtis. Additionally, Khamegas are known to live in Port Dorade and there are Merfolk in the ocean.
Government
Edit
Fragaria is run by a council of twelve (not the guardians). Nothing else is known about it or how influential they are to the people of their country.[1]
Locations
Edit
Ambai Village
Farun — The nearest Human village to Rhea's Jakkai village.
Fuzen'ro Forest — Rhea's Jakkai village is within this forest.
Ghardin City — The capital city of Fragaria.
Hakarl
Lake Phium
Mt. Sentinel
Port Dorade
Rathmus
Shadow Peak
Southern Woods — a forest with most access blocked by the Zolle River, home to Fairies.
Sunset Lake
Tsake Lake
Zolle River — a major waterway that bisects the region.
Fragaria lies south of the Queendom of Nirveus.[1]
The Median culture in Fragaria is based on European and American culture.
References
Edit
Ad blocker interference detected!
Wikia is a free-to-use site that makes money from advertising. We have a modified experience for viewers using ad blockers

Wikia is not accessible if you've made further modifications. Remove the custom ad blocker rule(s) and the page will load as expected.